Inherited Marble Clock
by Guy
(Delaware, OH)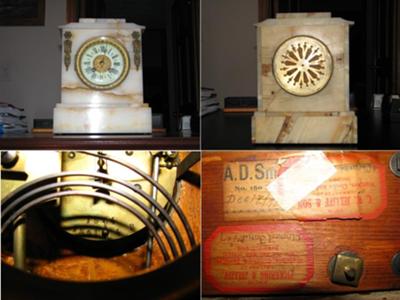 Front, bottom, back and inside of clock
I've inherited a couple mantel clocks from my grandfather who spent his retirment attending antique sales to purchase and repair clocks. I've identified the one but the other is a challenge. I now believe it was manufactured by L. Brocot, but not certain of what age/vintage.


Its case is made of white marble. The pendulum and back of the works are both stamped with 1591 (I believe this has to do with the size/weight of the pendulum) and the number 1544 is stamped on the back of the works as well as written in pencil on the inside of the case (I think this is a serial number) and there is also the numbers 4 8 stamped on the back. I found labels on the bottom of the clock indicating it had be cleaned and inspected as far back as 1907 and/or 1890 but its difficult to tell cause some of the labels overlap. On a gear on top of the pendulum suspension I found stamped "L. Brocot BTES GDG".
It needs to be cleaned and I'm trying to determine a vintage as well as confirm the manufacture before I decide who to contact about cleaning it.
Thank you in advance for any information.
Guy
Return to Identify Your Antique Clock.