Inherited grandfather clock.
by Claude Fry
(Grahamsville, NY)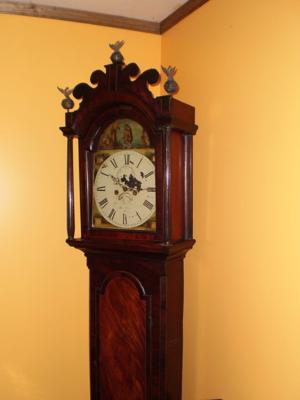 My Grandfather Clock
My mother bought this clock at an estate sale in England. I had it appraised in 1980 and the appraiser said it is a George Braddock Mathews clock. I have searched for several days and found nothing on this person.


It has a rocking ship in the arch with painted scenes. The face is painted metal and signed with what looks like Geo Braddock something. There is a calendar and second hand however neither works.
I have pictures of the movement and more of the face, hood and case.
Please help me identify the maker and year.
Thanks,
Claude
Return to Identify Your Antique Clock.