I'm a clock illiterate.
by Linda
(Nevada)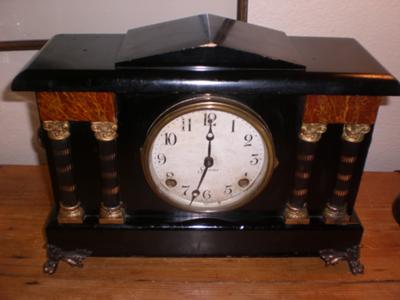 Sessions Mantel Clock
This is a Sessions mantel clock that has a chime. It has 2 keys and "bob" with an "S" on it that is not fastened to the clock. The face is pretty worn and says only "Sessions" and "Made in USA".


The ornate metal feet and handles are copper-colored. The column tops are faux marble wood. I'm not sure if the columns are wood or another material. The case is black wood.
I am wondering about the model name if there is one and the age of the clock.
Thanks for any and all info. It will be most appreciated.
PS I believe it works but I'm afraid to wind it. Why do I have 2 keys?
Return to Identify Your Antique Clock.