I LOVE THIS OLD CLOCK BUT KNOW NOTHING ABOUT IT
by REBECCA
(TEXAS)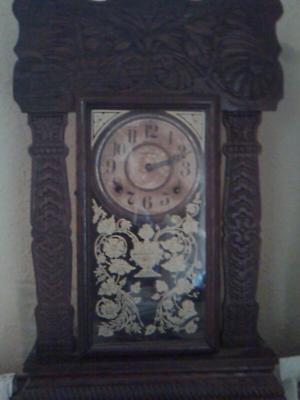 PLEASE TELL ME ABOUT MY CLOCK . IT DOES NOT RUN, I HAVE THE PARTS TO IT BUT CAN'T FIX IT - LACK OF KNOWLEGE.


I KNOW THAT IT IS E. INGRAHAM. I WOULD LIKE TO KNOW THE DATE AND HOW MUCH IT WOULD COST TO REPAIR IT.
I HAVE ALSO NOTICED THAT THERE MUST BE SEVERAL CLOCKS THAT HAVE DIFFERENT DESIGNS ON THE GLASS. I WANT TO KNOW ARE ALL OF MINE THE ORIGINAL OR HAS SOMEONE PIECED TOGETHER A CLOCK? THANK YOU FOR ANY HELP YOU CAN OFFER.
Return to Identify Your Antique Clock.