Help me restore a Derry Mfg. Co. Derry N.H. Banjo Wall Clock
by Michael Moyerf
(Oakland, CA)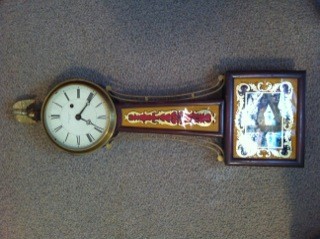 Banjo Clock
A Clock company in Lafayette CA took this clock apart and told me it is signed inside by the Derry Mfg. Co. and made in the early 1900's(1906?).


It was shipped to me from my mother's estate and was baddly damaged in the process. The reverse gold leaf painting on the glass "key" door is cracked and much of the reverse painting is gone. The glass throat is clearly not original.
I would like to restore this clock. I am seeking someone who can create an appropriate reverse glass painting for both the "key" door and the throat, similar to an original design. Or can someone tell me where I can find a reverse painting template so I could try painting it my self (I am an artist)?
The clock also needs a new 7 1/2" diameter glass to fit in the clock face door. I think is was slightly rounded.
I would appreciate any help and guidence you can offer.
Thank You, Michael Moyer