Great Grandma's Black Mantel Clock
by Amy
(Vassar, Michigan, USA)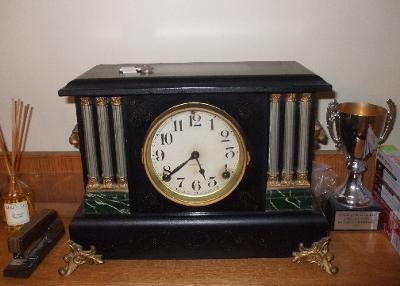 Great Grandma's Ingraham Clock
My grandpa passed away Thanksgiving 2008 and no one else wanted the clock. I thought it was unique, so I asked for it. My mom obliged and here it is!


I would LOVE to know more about it. The only thing I know is that it has been in our family now for a long time. It used to be on the mantel of my great grandma's homestead. It still works! It is 'off' a dong, but I realize we can fix it. We have the key. All is intact.
The back cover isn't that great...the wood with age has gotten dry, but it is still there. It is ticking as I type this and dings it's bell on the half hour. The key is taped to the top. Any info would be appreciated. It seems to be a great family heirloom!