Great Find on a Howard Miller Clock
by Harry Stanton
(Wilmington, Delaware (USA))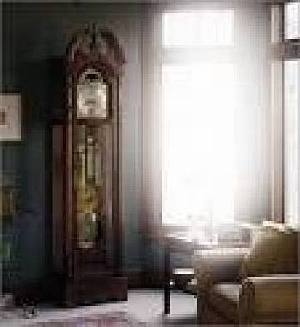 Our Grandfather Clock
I've always thought the the final purchase I'd ever make was a grandfather clock. I knew they were expensive and I have never really had the room for one. So I thought I would finally get one by the time I, myself, was a grandfather!


But a couple of years ago, we bought this new house and there was a great spot for one. It was also near our anniversary. So we were looking at furniture for the new house and found a Howard Miller Grandfather Clock for a great price.
You'll never believe where we found it. Sam's Club Warehouse. It was one of those special purchases they made with the clock manufacturer, I guess. I've seen this same clock, with some minor detail differences, in a furniture store for three times what we paid for it. I'm sure furniture stores mark up their prices. But, at Sam's we found this clock for only $1100.00.
We bought it on the spot and we have never seen another grandfather clock for sale at Sam's again. I bet other warehouse stores, maybe even Sam's, will offer a good buy on a grandfather clock again in the future. So it wouldn't hurt to keep checking at those type of stores if you want one for the price.
Our's came in a big box but there was very little to assemble. It came with the full warranty and even a metal plaque that we could send in for them to engrave for free. We had our names and the date of our anniversary engraved on it since it was close to the date of when we bought our new clock. It was both a house warming gift for ourselves and an anniversary gift for ourselves.
The clock has kept perfect time these two years and has been no problem. We love hearing the clock
chime. It truly gives a homey feel to our house. It even came with a metal capsule to fill out a certificate to whom we would pass this clock on to and room for future generations to pass this clock on to. It is an heirloom that we never thought we would get.
Oh, by the way, we are going to be grandparents this next month. But we don't think of ourselves as old. We aren't even fifty yet. Almost, but not yet.
Editors note: Howard Miller has been manufacturing top quality clocks
for many years. It sounds like you found one that that will be in your family for many generations. If interested, you can find information on
The Howard Miller Company here.