Grandmothers clock passed down to me
by jfl1960
(Nova Scotia, Canada)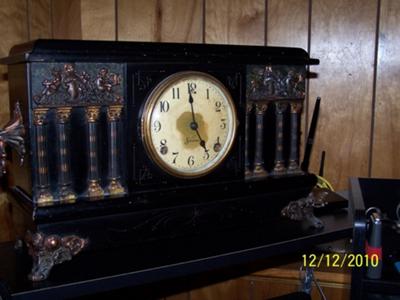 Clock's Front view
This is a Sessions Clock, model name "Ardmore". Itis a mantel, 8 day, half hour strike, cathedral gong clock.


It was given to my grandmother by her church for playing the organ in the church for many years. The clock somehow ended up with my Aunt and got over-wound and stopped working, then was put in the basement as an ornament, after my Aunt passed away her daughter moved into the home and took over. On a visit, I noticed the clock in a box marked "FLEE MARKET" and inquired what she was up to; well it never made it to the "FLEE MARKET" and my cousin got an earful from me before I left.
Anyway I took the clock home and spent several weeks working on it until I got it working again. The chimes are soft and very pleasing to the ear. The clock never keeps the correct time, but hey at least it runs.
Could anyone tell me the approximate time frame these were manufactured and possibly it's worth, just curious. Here is a pic of the clock front and back cover. You can see the discoloration on the clock face where my grandfather over used oil to lube the gears and it bled through.
The clock is dusty and shows it's age from scratches and such but is very important to me, wish I could get it to keep correct time.
Note from Bill:
Your clock was manufactured circa 1923 by the Sessions Clock Company, Forestville, CT.
It has what they called marbleized moldings and bronze columns and trimmings. The feet and side caps were gilt. The dial was called Ivoriod (a trade name) and lasted much longer than the paper dials on most of the clocks at the time.
If it has the original movement in it, it should strike the hour on a cathedral gong and the half-hour on a cup bell.
The book value in 2002 was $400.00. Hope this helps, Bill