Grandma Lena's Clock
by Judy Orr Hawley
(McGregor, Minnesota, USA)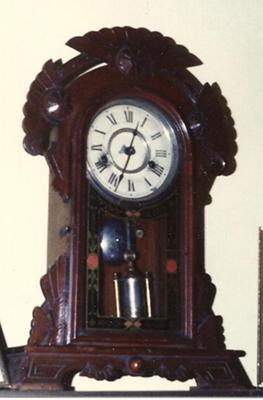 Lena's Clock
The dimensions of the clock are: 18-1/2" high x 11-3/4" wide x 4-1/4" deep.


Front of Clock:
- curved top with 3 flowers (8 petals ea) one at top, one on each end of curve. Top flower has 9 "rays" emanating from it; the other 2 flowers each have 8 rays emanating from them.
- wood is dark reddish coloring
- clock face has "PAT'D FX 18XX" (I can't read the "X" letters or numbers; The date might be 1879?)
- glass has ornate border (curved at the top, straight sides and bottom)of black with 4 red decorations (red decorations are located at center of top, bottom and each side; the 2 red side decorations almost look like round Christmas ornaments with diamond shapes traversing the center, the top and bottom red decorations consist of 2 connected diamond shapes-- each with another
black
oval-shaped Christmas ornament with a flower in the center)
- numbers on clock are black roman numerals, each 5/8" tall
- "ball" is a silver-colored tube-like structure with 2 smaller gold-colored tubes on each side. There is a small striated gold-colored ball at the top of ball. Ball is 4-1/4" tall.
- it needs to be wound daily
- it chimes on the hour
Tag on back of Clock:
1 day TAGUS
STRIKING.
New Haven Clock Co.,
NEW HAVEN, CONN
_____________________
_____________________
NOTICE.
If the clock should go too fast, lower the ball;
if too fast, raise it.