Gilbert Clock 'Garcia' found in our house
by Kevin
(Apex, NC, USA)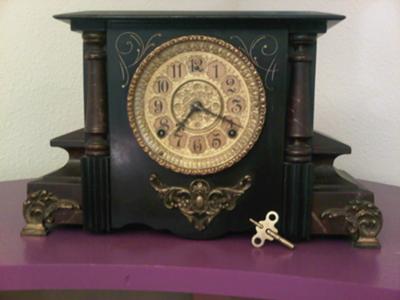 Gilbert Black Mantel Clock
This clock was in our house when my father passed away, but I never saw it before then. From the pictures, hopefully you can see the identifying features.


The workings include a stamp with the date 1903. The face has the letters 'S' and 'F' at 12:00. The label pictured is from the underside of the clock.
I have wound it up and it has been keeping good time. It chimes the correct number of times on the hour, and has a bell that rings on the 1/2 hour (which my dog finds quite unsettling).
Just wondering about the value of this clock, its rarity, etc. I truly know nothing about antique clocks, so any feedback is appreciated.
Thank you in advance for your time!