Fretwork Ingraham Wall Clock
by David Sarraf
(Elizabethtown, PA)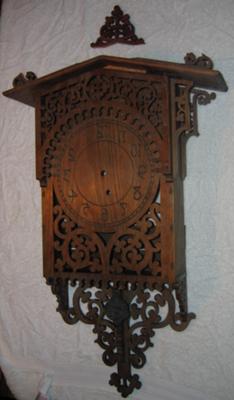 Ingraham Wall Clock
The case of this clock is fretwork walnut. The main body measures 11" wide x 16" tall x 3.5" deep. Including the trim on the top and bottom it is 32" tall. There is no separate face. The numerals and other marks are carved right into the wood.


The gingerbread is fastened with brass flathead wood screws. Some of the screws on the front of the clock are exposed; the rest are plugged. I suspect that they were all plugged initially until someone took the face off.
The clock has a brass wind-up mechanism with a cast-iron pendulum weight. The frame is 2.25 x 2.25 x 1.5" deep. The back of the weight says "No. 7".
The mechanism reads "E INGRAHAM & CO", "BRISTOL, CONN". I do not see any other numerals (date stamps) or markings on the mechanism. There is no chime, however there is an extra wheel that meshes with the hour hand on the front frame of the mechanism. That wheel looks like it turns once per day and has a pin that supposed to actuate something else.
The clock is in not bad shape. It is complete except for the hands. The mechanism is in good shape and wants to run when you move the verge by hand. Some of the fretwork has to be glued back together, and the pendulum suspension is broken. It's a thin sheet metal shim and shouldn't be hard to replace. It looks like all of the damage was done in storage.
I've been a long-standing admirer of clocks, but have not seen a case like this before. I'm curious as to its history and age.