French hanging wall clock
by Kathy
(Greeneville, TN)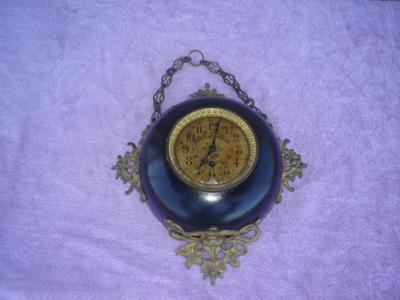 French hanging wall clock
I know nothing at all about this clock. We bought it at an on-line auction because we liked its looks. (And still do) Don't know if it's "real" or a reproduction.


The writing under the top says "Gateau & Keisser" -the address on the bottom of the clock face is 82 Avenue de St. Ouen and "Paris" is marked under the Number 6.
The numbers on the clock are not roman numerals. It also is a 24 hour clock, with the numbers beginning "13 -24" under each number.
The decorations are brass. The clock is a painted metal with the back of the clock appearing to be walnut. The clock face is beveled glass with a hinge on the left side. No second hands.
It has a 4" long pendulum inside. Markings that I have not been able to identify but show in the picture. It has etched on the back of the clock insides "D 12 May 73" There is a marking inside maybe identifying the maker but I can't identify it. There was no key with it.
The clock is 9 3/8 without including the brass deocrations.
Any ideas? Thank you.