Inherited Colpman Wellingborough Clock
by Sean
This is another clock I inherited. It is a wood wall clock about 28 to 30 inches tall. On the face of the clock it says "Colpman Wellingborough".


The bottom front opens. Inside on the back of the wood looks like an old black/brown paper. Cracked and faded that states, "Superior 8 day Anglo American Clock fitted with the standard American Movement.
Half hour slow strike. For home (some faded insignia) or abro. The pendulum is bronze, shaped like a floral/leaf bouquet.
Any info would be welcome.
Bill's Reply:
In their heyday, The big American Clock Companies were the world leaders in clock manufacturing. They were the first to mass produce the cheap brass movements that made clocks affordable for most people to own.
Many of these companies exported their movements to Europe for them to use in their cases. These clocks are known as Anglo-American clocks.
The name on your clock may be the retailer that originally sold the clock. I'm not sure. But the clock itself was probably made in England using a movement imported from America.
Click here to read or post comments
Return to Identify Your Antique Clock.
Help Identify This Clock
by Dawn
(Illinois, US)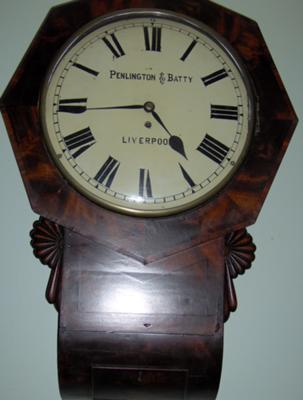 English Wall Clock?
The face says Penlington & Batty, Liverpool. I have not been able to find any info of these clock makers together.
Click here to read or post comments
Return to Identify Your Antique Clock.
Old Family Clock
by Kevin Loney
Old Family Clock
This clock has been in my family for over 100 years so I am told!

It still works perfectly. It does have some wear from where it has been handled over the years but has no cracks or broken pieces as far as I can see! The glass dome however is cracked!

It has a stamp on the back of the casing which says "70 BRUNFAUT". The markings on the mechanism say "R&C Paris & London 2856". There is also a stamp "2856" on the pendulm weight.

On the 1st wooden base there is a sticker which says "Watchmaker, Jeweller & C. THELWALL 97 Oxford St Manchester. On the 2nd wooden base there is some writing in pencil which says "Louis 16 and C 1400-25".

I would appreciate any information that could be offered on this beautifull clock!
Click here to read or post comments