EARLY SIMON WILLARD?
by Liam Ryall
(Portland, Oregon)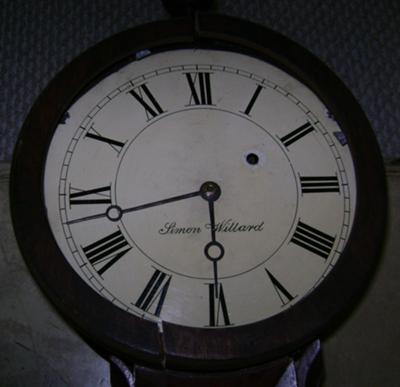 Simon Willard Clock
This clock was a gift from my girl's parents. We have no idea what to do with it. I researched it a couple years ago for them and told them I thought it may be valuable and to look into it.


Now they gave it to us. Any advice?
Clock is cracked around the face, but no other damage and no missing pieces. It has 2 stickers inside:
"Arthur Stern Jeweler and Optician
Cor. Pearl and Buffum Sts.
Lynn Mass"
and
"A.L. Russell
Clock Repairer
111 Rockaway Street.
Postal orders will receive prompt
attention. Telephone connection."
It has more clues behind the face but I forgot what it said. Any information, ideas or advice welcomed.
Thanks.
Liam
Return to Identify Your Antique Clock.
John D Nutter Wooden Works OG Clock?
by Kevin
(Brownwood, Texas)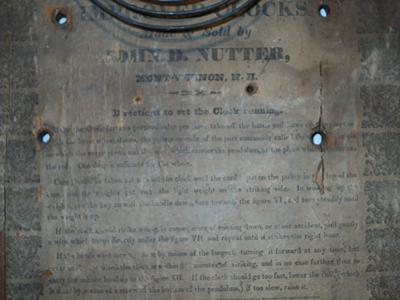 John D. Nutter Clock Label
We own one of these beautiful wood works clocks and are looking for any information on the maker.

The label states John D. Nutter, Mont Vernon, NH. It is an OG style clock with wooden movement. It measures 26 1/2 H x 16 1/2 W.

We have included a picture of the label. Any information would be greatly appreciated!!!
Click here to read or post comments
Return to Identify Your Antique Clock.
Age of clock by label
by Bob Lorenz
I have an OG made by the Forestville Clock Co.in Forestville, Conn. The label in the case was printed by the CALHOUN PRINTING CO. 66 STATE STREET, HARTFORD, CONN. Is it possible to date this clock by its label?
Click here to read or post comments