E. Schmeckenbecher Cuckoo Clock
by Mike
(Olympia, WA)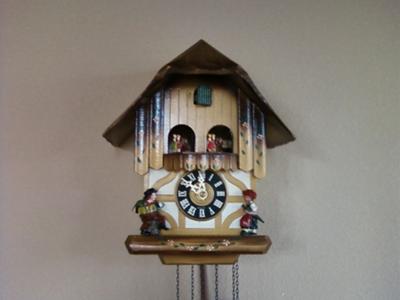 Musical Cuckoo Clock
I would like to know the age of my newly purchased Cuckoo clock. Many sites out there give good info on how to find out the date that your clock was made. However, it is not a simple task. I have conflicting information as to what the stamps on the clockwork means.


I just bought a vintage Emil Schmeckenbecher Chalet Cuckoo Clock, one-day, with dancers & music (so that means 3 weights). I would like to know the approximate date it was made. Here are some information that is stamped on the Clock mechanism:
E. Schmeckenbecher
Made in Germany
25 (is this 1925, or is this a model number: one day clock?)
G.M. 1731483, 1741584 (these are patent numbers?)
Regula Trademark (Regula, with a single tree in a shield)
Brahms Lullaby paper sticker attached to the back of the house/chalet.
Three pine cone weights, one stamped with a "19", one with a "5", one with a "16" (however they all are same size and seem to weigh the same!) Stamps on these are not very clear to read.