Competing with an Auctioneer! but I won the Clock!
by Sara
(Leicester, United Kingdom)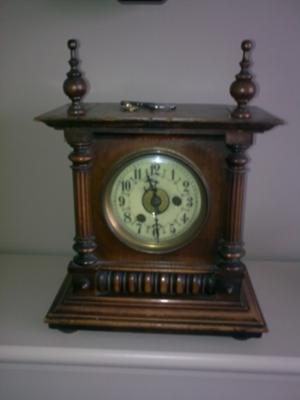 Auction Mantel Clock
I bought this lovely mantel clock from a small auction in Leicester, 3 years ago. The actual auctioneer was competing with me, but I won the clock.


It is a lovely looking clock, I have tried to do research but cannot seem to find where and how old this clock is. It has a number on the back on a small tab of paper; it says No5005. It has 2 keys to wind the clock up and chimes on the hour.
You usually have to wind it up everyday. The 2 wooden spires on top of clock just pull off, which is easy for dusting!
Hoping the pictures might help anyone to identify its origin.
Many thanks, Sara