Colonial Manufacturing Schoolhouse Clock
by Cathy
(Northfield Vermont)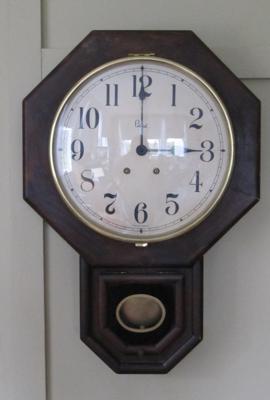 Schoolhouse Wall Clock
I have a Colonial Manufacturing key wind schoolhouse clock that chimes every hour and on the half hour.


It has Western Germany clock works with
"Janch
P.L. 42 cm
Western Germany
11 69"
engraved on the movement.
On the face is Colonial printed in the center and Western Germany on the bottom. ON the back there are numbers 116 3 wood burnt into the case, and a Sticker that reads Colonial of Zeeland, Manufacturing Co., Zeeland, Mich (end of sticker is torn off)
I would love to know more about this, When trying to find information about this clock all I can find is info on Colonial Grandfather Clocks, not schoolhouse clocks. Anyone have any ideas?.