China Waterbury Clock
by John
(Watertown, MN)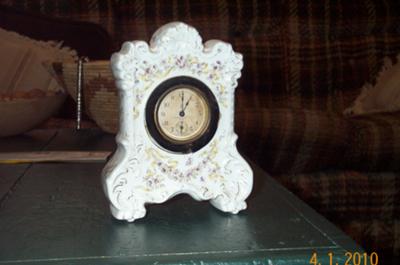 Waterbury China Clock
I believe this was my grandmother's, but I know very little else about it. On the back, molded into the porcelin is the words, St Geo. No other markings except those on the face of the clock works which indicates it was from Waterbury Clock Co., or at least the clock work was.


The clock is inoperative and the velvet facing around the face is worn and slightly torn in one place. There are no chips that I can see and very little wear, but there is some slight crazing in the finish of the glaze. Is there any way to determine an age and approximate value, and would this clock be worthy of repair or restoration? Thank you....JH
Return to Identify Your Antique Clock.