Bought it at a thrift store for $20.00.
by Nancy Selders
(Palmer Lake, Co. USA)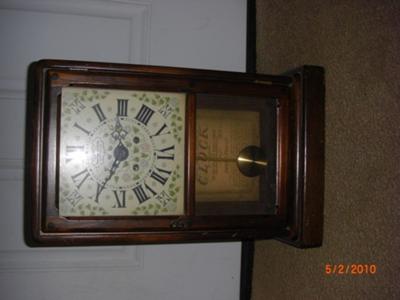 Mantel clock
I found this clock at a senior citizen's thrift shop. The dial says New England Clock Company, Farmington Conn. It is numbered Ne 214c. It is a two wind pendulum clock. I'd say it's a wall or mantel clock.


The dial has Roman Numerals and is very flowery. The case is a dark wood and very simple. The clock runs well, but it feels like the chimes have been over wound and it does not ring. It has two winds, not three.
What I'd like to know is when it was made and if it's worth the $20.00 I paid for it; although I like it and it's worth more than that to me.
Also, is there any way to fix the chimes without taking it to a clock repair shop? Thanks, Nancy