Blessing Alarm Clock made in West Germany.
by Vickie Lomon
(Ketchum, Oklahoma)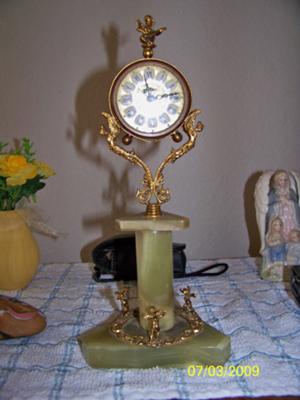 Blessing Jade Clock
I ran across a clock at a garage sale that absolutley caught my eye. I knew it had to be an antique, but just was guessing, I am still not certain if it is an antique?


But anyway, the front of the Face says Blessing, back stamped West Germany. It has a Jade base with three cherubs blowing trumpets, then on standing on the pillar of the jade is two angels one faceing east and west with a cherub blowing a horn.
I paid forty dollars for it? Can someone tell me something about my clock. It's an alarm clock.
Please reply here if you have any info.