BEE ESS FIGURAL MANTEL CLOCK
by Michele
(Nashville, TN )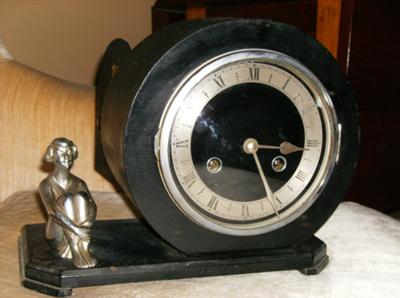 Bee Ess Clock
I am trying to find any information on this clock as far as age of the clock and the company that made it.


The clock is encased in dark wood. The face of the clock is marked with Roman numerals. It chimes on the hour and half hour. The clock key is a CARRAR.
On the back of the clock engraved just behind the pendulum in the center bottom are the numbers
29741
and in the right corner are the numbers
12
. The paper sticker located on the back door is printed
BEE ESS
the Hall Mark of reliability.
The clock is 10 1/2 inches across base and 8 1/2 inches tall. Thank you in advance for any information.