Austrian Clock on Velvet Ribbon, French Works
by Lisa T
(Chicago)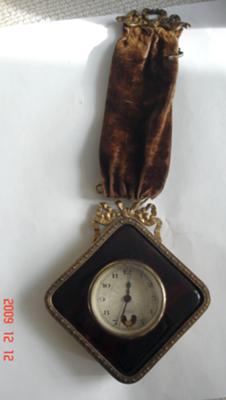 Austrian Pull Cord Clock
Hi!


Help! Well, I've searched all over eBay and Google to try to identify this clock. The only thing I found was an article written about "Pull Cord" clocks - those that were attached to the cords that were pulled to call domestic "help" in mansions of old. He likened them to Carriage clocks - & guessed they were from the 1800s.
My dad had this clock in his belongings - and he used to work in the late 60s at a very tasteful hotel in the Gold Coast of downtown Chicago. Many of the people that lived there gave him items that they no longer wanted. Or...they threw them away & he "garbage-picked" them! (I love to garbage-pick too! Got that gene!)
In any case, ANY info would be appreciated.
Clock measures about 11" from top of ribbon to bottom. Appears to be brass or bronze. Knobs on back to not turn (don't want to force them). Ribbon is brown. There are 2 wires that go from top of clock up to top of ribbon - they have metal "hooks" on them. Clock back says "Patented in All Countries" & Made in Austria. Clock face says "Made in France".
Thanks SO much!
Lisa T - Chicago
Return to Identify Your Antique Clock.