Antique German Wall Clock
by Peggy
(Boise, ID)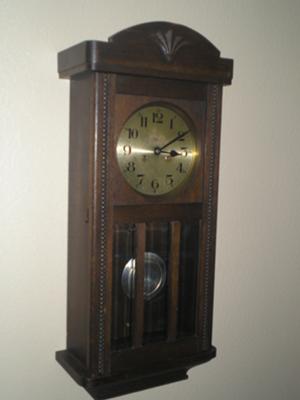 German Box Wall Clock
This is a German clock from around 1860 is what I was told when I had it reconditioned and cleaned.


He also told me that the wood had a veneer which is more valuable (not sure why). No signage on the clock at all and everything works beautifully. The clock face is a metal and the chimes are played on the 1/2 hour and the hour.
The clock needs to be wound and lasts about a week. It has the beveled glass panels (3).
Note from Bill:
This is a common German "Box" wall clock style that was made by many German companies. It is sad that so many of them were not signed and so to know the actual manufacturer is near impossible to determine.
Without seeing the movement, I can not be sure about the approximate date of manufacture, but I think 1860 is a little early. My estimate would be 1900 - 1910. Maybe someone else will have another opinion and will post here. Thank you.