Antique Clock Found in the Basement
by Gregg
(NJ)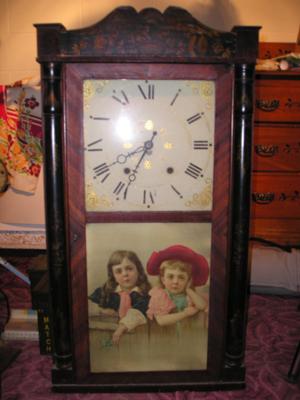 Antique Wood Works Clock
This clock was bought by my father's parents at least over 50 years ago as they were antique collectors.


My father does not recollect them ever having it work, but it seems to be complete and I believe it could work if the weights were restrung.
It has three weights, but I think it only needs two based on the two winding holes.
I will take it to my clock guy who did an awesome job fixing my Ithaca Calendar Clock to see if he can put some life back into it.
It seems in very good shape and is all original, though I am curious why part of some of the "V's" and "X's" on the dial are missing.
Thanks to Bill Harveson for providing me with some historical information regarding this clock and for this site to share the picture on.
I would be interested in and appreciate any advice, tips, or information you folks might have.
Gregg