antique abstract Waterbury clock
by Rich
(Tennessee)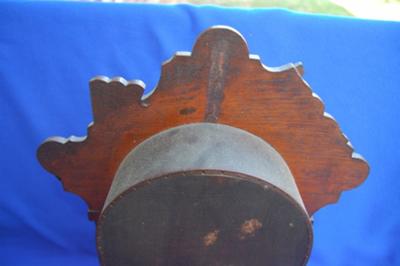 Waterbury Kitchen Clock
I know it is a Waterbury Clock. The design is very unique for the time frame it was made. The pendulum has a bird and stars, as is similar to other Waterbury clocks.


I don't know if the glass is original, but it does fit the style of the clock. I have had this clock for some time and can't find any info on it. The label on the back is not readable, but probably did have the name on it.
The hands are pinned and also marked Waterbury. There are no extra holes where the movement was changed and as you can see from the back, this was not pieced together, as the back is a solid piece of wood.
Now that I told you about the clock, this is what I would like to know; does this have a model name? Who may have designed this clock and what was behind this design and what may have been the story behind this design, considering it is a very abstract look for the time.
Any help would be appreciated. Thanks Rich