Ansonia Clock - Need help
by Kyle
(California)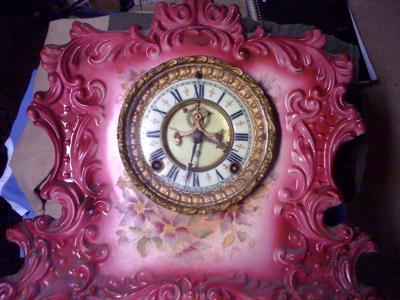 Ansonia Clock - Front
Hey everyone,


Well to be frank about it, I've had this clock sitting around my house for some time now. No one in the family really cares to much for it, I being the only one. I took the clock back to my place just out of respect for my grandmother. She really loved this clock (at least from what I remember as a child) She passed away when I was about seven so I really never knew to much about her, yet alone remember.
Anyhow, I was up the other night watching a "Pawn star's" TV show out of pure boredom, saw a guy bring in a old clock and found out it was actually worth some money. Never the less, I do not want to sell the clock, but would be curious on how much its worth. I would really just like some information for sentimental value, and any would be appreciated.
As for what I know.
The clock reads: Ansonia Clock Company: New York
on the face. On the back is a label reading No.434
Ill post some pictures on it: any feedback is great.
Thanks anyone who looks or post info.
-Kyle