All-brass movement German Grandfather Clock
by David
(Yadkinville, NC, USA)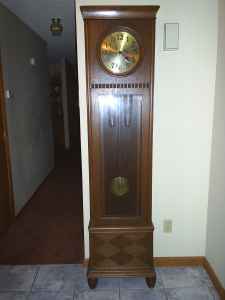 German Grandfather Clock
I found this clock in a warehouse-style flea market in Yadkinville, NC about 1993.


It has a brass German movement. Black Forest styling on cabinet. Beveled glass on door with bubble glass for face.
I was told that the clock dated from late 1800's to 1900. It has feather-like symbols cast into the strike-rod support casting.
The feathers are positioned to resemble an 'A'. Any ideas would be appreciated!
Click here to read or post comments
Return to Identify Your Antique Clock.