7 Day Clock
by Deb
(Columbus, Ohio USA)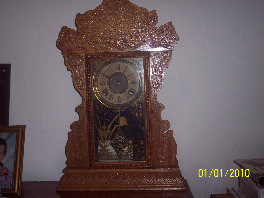 E. N. Welch Clock
This clock has been in my family for many years. I have been told its over a hundred years old. I am inclined to believe this since it belonged to my Great Grandmother and who knows who had it before she did.


I would like to sell it, but I want to know what it's worth before I even think about advertising it anywhere. It has the gong type chime and it looks old. There's an arm that strikes a wire thats rolled up.
It's really a cool clock, but I have no use for it really. I know it's been in my family for a long time, but I would love to see someone have it that can appreciate it. I'm just not into the old clocks myself and I could use the money too.
Can you help me..anyone ??? The only name I can see on it is on the face..It says Welch.
Thanks..