300 day anniversary clock
by cheri blackman
(jefferson, ME, USA)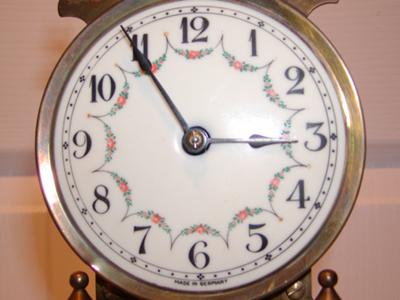 This clock was purchased by my parents in Germany in 1947-48. It sat on a desk in our living room for many, many years.


It has "Made in Germany" on the face. There is a manufacturer's mark/logo on the back (see picture), but I have been unable to identify it.
I would like to know the approximate date and the manufacturer. Thank you.
Note from Bill:
I can not be sure of the date of manufacture, because I could not see the entire back of the movement, but the late 1940's is probably a good guess. The name of the company that made the clock is the Kieninger & Obergfell, who made many of these types of clocks in Germany at that time. Thanks for posting.